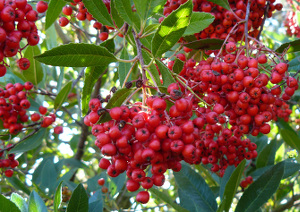 Toyon, a Plant of Many Names and Uses
(Heteromeles arbutifolia)
by Jessica Calvillo
If you are on the lookout for a plant that can provide your garden with color during the winter, then Toyon has you covered. This large, evergreen shrub, which also goes by the common name California Holly, deserves just as much fame as the city that was named after it, Hollywood. Before the city of Hollywood became what it is today, it was once home to populations of this holly-like shrub so dense they resembled that of a woodland, hence the name holly-wood. In addition to the common names, Toyon and Hollyberry is "Christmas Berry". During the 1920s, California's Christmas Berry population was under further threat due to the popularity of its clusters of bright red berries as Christmas decorations which resulted in a law that made the collection of wild Christmas Berry illegal.
The assured abundance of this species in our coastal sage scrub, chaparral, and oak woodland ecosystems throughout California is of great importance to indigenous cultures and for native wildlife. For many indigenous communities, Toyon plays a significant role in traditional ethnobotanical practices. One traditional use is for making fruitcakes. They are made by boiling the raw berries to remove the astringent flavor, then mashing them into round cakes that can be dried and eaten later. In more recent times it has been discovered that Toyon berries, with the addition of a little sugar, can also be made into a pleasant tasting cider.
Not only in the wild but in gardens as well, Toyon can be seen providing sustenance to foraging wildlife such as mockingbirds, American robins, cedar waxwings and a vast array of native bees and butterflies. Due to its extensive natural range, which stretches from Northern California to Baja California, Toyon is quite popular for both residential gardens and habitat restoration. So as the rainy season has begun to take hold, seize the opportunity to plant this red-berried beauty in your garden and await the grateful, winged visitors that will surely follow!
For more information about Toyon, visit calscape.org.