Adobe Creek ln Los Altos Hills
Story and photo by ECI staff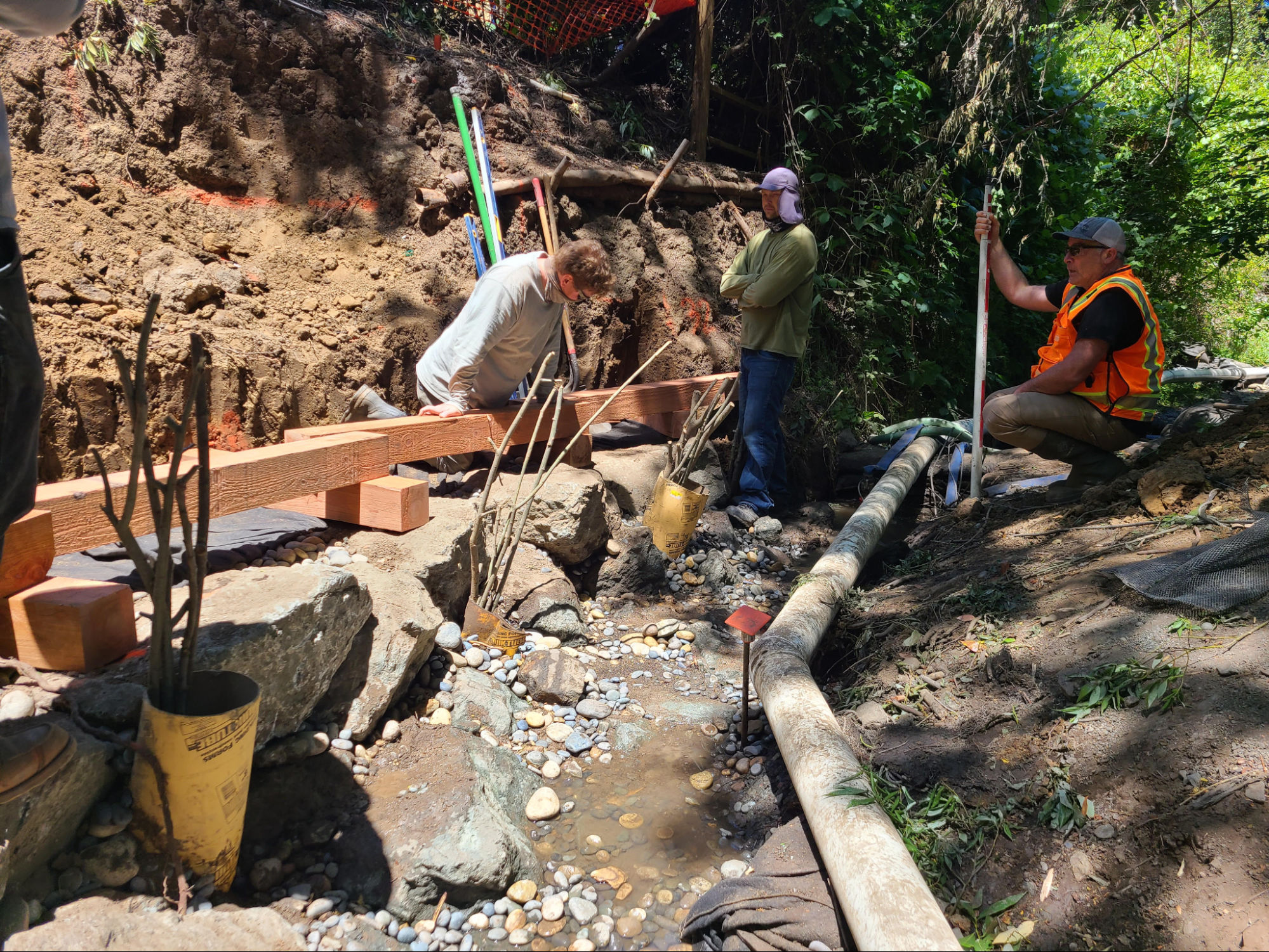 Forrest, Spencer, Kevin P, Miguel, and Mario (with help from a few others depending on the day) have been working hard on a design-build bank repair along Adobe Creek in Los Altos Hills. The bank was damaged by a water main break on the adjacent street, and we have been working with the engineering and hydrology team at Balance Hydrologics for the past year to get the project up and running. The team set up the jobsite including wildlife fencing, clearing vegetation for access, and setting up dams and piping to divert the creek around the work area, all in strict compliance with the project permits.
Despite the successful diversion of surface water, ground water presented an issue. A lot of problem solving was required to pump groundwater seepage out of the site in a way that protected downstream water quality, and dig a footing for the rock toe of the repair. In the end, a vacuum trailer was used to pump out the muddy slurry for the excavation. The hitch on this rental equipment snapped (of course), but the team was able to keep things moving by chaining it to the telehandler on site and moving it around.
The team has now set all of the rock toe carefully around willow filled sonotubes that penetrate the rock, giving the willows access to the native soil and groundwater. Work on a crib wall of redwood timbers has begun. The bank repair layer cake will be topped with a set of wrapped fill lifts (compacted earth wrapped in erosion control blankets), then frosted with native plants (grown by CCW!) and irrigation.
This would have been a challenging project even had things gone perfectly smoothly, so kudos to the team for overcoming the roadblocks thus far and producing a high quality and environmentally friendly bank repair!