Central Coast Wilds nursery is a wholesale native plant nursery that specializes in growing watershed specific native plants for habitat restoration and ecological landscape projects. We grow hundreds of species of native plants that are indeginous to watersheds throughout the Monterey and San Francisco bay areas.
The nursery began as a back yard nursery on the Westside of Santa Cruz in 1992 and rapidly grew and moved to the Soquel Hills in 1993. In 2000 the nursery moved back to the City of Santa Cruz to the current location on Golf Club Drive.
Walk in customers are welcome Monday - Friday from 10am to 3pm. Come enjoy the last vestige of farm land in the City limits and the beautiful Pogonip Open Space Preserve that border the nursery.
Custom Contract Growing
Central Coast Wilds operates a two-acre nursery and propagation facility in the City of Santa Cruz. On a contract basis we grow native plants for restoration, revegetation, agricultural and landscape applications. We have expertise in propagation plant species from coastal bluff, grassland, riparian, wetland and woodland habitats.
| | |
| --- | --- |
| | |
| CCW Contract Growing | |
Site-Specific Seed Collection
CCW custom collects native plant seed in order to provide watershed specific plants for habitat restoration projects.
| | |
| --- | --- |
| | |
| Custom Grass Seed Collection | CCW Nursery Production |
Botanical Consultations
If you are interested in having a horticultural expert assess your property and make native plant recommendations (residential yards OK!), email sales@centralcoastwilds.com with your name, phone number, location and property size. Please title your email Botanical Consultation Inquiry
"Matt arrived on time and we got straight to business. We recently moved to this 2.5 acre property and are in the process of rewilding the land. Matt was quick in his assessment of the various habitats here and his expertise in ecological restoration of the various areas was deeply appreciated. Matt knows this land and his enthusiasm was obvious. We are extremely excited and we look forward to working with Matt on this process! We sleep better knowing that there are people like Matt in this world who care so deeply about Mother Earth." - Mark & Kristin
Native Species Consultations
Central Coast Wilds consults with landscape architects and project planners on the selection of native plant species for use in habitat restoration and ecological landscape projects.
California Buttercup

Foothill Penstemon
Purple Needle Grass
and Blue-Eyed Grass
Native Erosion Control Mix
Central Coast Wilds specifies and sells a custom erosion control seed mix. We do not sell standard wildflower mixes ("the meadow in a can"). These standard mixes often contain natives and non-natives, and many include weedy species. "Adapted to California" is not the same as native to California.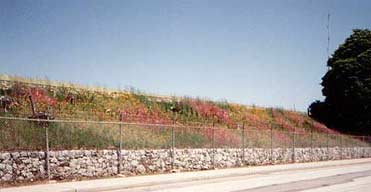 Native Wildflower Seed Mix, Santa Cruz, California